Recently for some work that I'm doing I had to revisit the techniques for creating successful online social environments.  This is a surprisingly deep and nuanced topic that we as Web application architects or enterprise social computing practitioners are just now fully beginning to grasp.  The subject matter itself runs the gamut from key conceptual underpinnings — esoteric topics like systems theory and network effects — to the daily grind of understanding and managing the needs/expectations of an often difficult-to-control community of actual, live people.
In general, I've found that the ideas behind social systems themselves are clean and elegant while dealing with their practical realities can definitely be messier and many find them annoyingly unpredictable as well.  In the end, online social ecosystems are invariably a fascinating mix of the classic vagaries of technology and people.  However, despite the apparent science, making them grow into something undeniably successful is still very much an art form.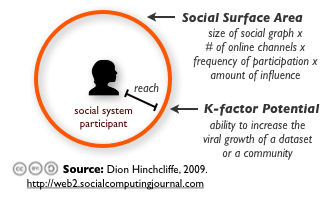 Interestingly, there's no real name for this skill yet and it's an important — even vitally strategic one — for any organization that has to engage with a lot of people over a network. And that's increasingly most of us in these days of the ever-present Facebook news feed, Twitter microblog, and workplace Enterprise 2.0 environment.  It also means that creating a workable online community requires a good dose of hard-nosed engineering as well as highly effective "soft" skills in UX design, social architecture, and community management. For it to really work — to have a vibrant and growing community — you have to seamlessly connect both of these worlds: a well-crafted social environment together with the people that will use it. The rewards for doing it successfully speak for themselves: Ultimately, businesses and communities are groups of people, and if they produce more value for each other together than they can individually, then there is something in it for everyone. And the online world lets us create these entities far easier, more quickly, and with larger populations than ever before in history.
Related: Network effects are just one of several dozen "power laws" that social architects must know today.
We used to call this process "founding a business" or "creating an organization".  We would call the people that did this entrepreneurs or occasionally philanthropists if their goal was non-commercial. But this terminology doesn't seem to apply as much to what's happening now.  For one thing, communities are organized differently and frequently have other motivations for participation than the usual one for traditional businesses: the worker/employer relationship.  Second, the output of large distributed online communities — especially when focused on discrete outcomes — can greatly exceed the results produced by densely concentrated single institutions.  While we are certainly in the very early days of this phenomenon, I've frequently pointed to numerous examples of these new models for creating shared value. 
So putting aside the socialism vs. capitalism arguments for now (they are increasingly brought up in this discussion, though why they don't seem to apply here is the subject of a future post) the 21st century networked economy — powered by people and knowledge connected together globally at virtually no cost — has set free fundamentally new ways of innovating and collaborating for mutual benefit.  Specifically, it's the rules for how these new mechanisms thrive and create value that is the object of discussion here.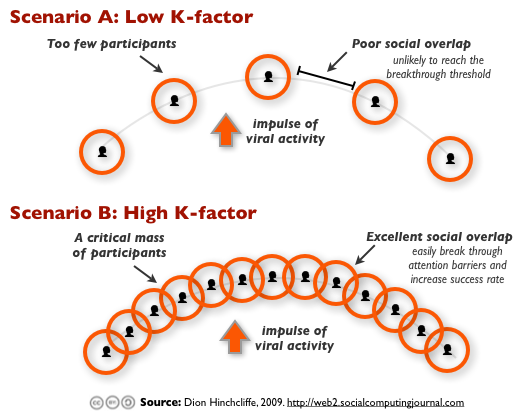 For my own part, I've been fortunate to encounter ways to reduce the concepts for creating growing social ecosystems to a short list, the key ones which I'll present here. Please be warned, some jargon is necessary, but I will explain it along the way.
How To Create Self-Sustaining Social Ecosystems: The K-factor Lesson
Like my 50 Essential Strategies for Web 2.0 Products, this overview cannot possibly be exhaustive.  It does however highlight the central idea behind all successful communities: They are either busy growing or they're busy dying.  Gaining critical mass early on is another important lesson that we've garnered from the early Web 2.0 pioneers.  Finally, the aforementioned and mysterious K-factor is introduced and explained below.  
I've written in the past about deliberately creating emergent phenomenon and then capturing some kind of value from it.  Like most efforts on a fixed scale of zero to the maximum possible result, there is a reverse bell curve effect, meaning that most people will get middling results, some will get very poor, and some will hit it out of the park.  From the projects I've been involved in, I find that the most successful social efforts are ones that are highly agile and willing to capture lessons learned early and often and then make changes quickly and do it all over again the next week.  The Web favors those who experiment, adapt, and evolve and thus should go your social ecosystems.
Good luck with your social media and Enterprise 2.0 efforts.  Please don't hesitate to ask questions below or contribute your own wisdom.