One of the things I'm doing this week is preparing for a presentation at Web Builder 2.0 on how to monetize mashups in Las Vegas next week.  Consequently, I've been pulling together notes, talking to mashup creators, and studying real-world examples of how companies are applying innovative ways of generating revenue with Web 2.0 applications and open APIs.  Though there are all sorts of interesting emerging stories, such as the new Second Life millionaire, product developers are increasingly trying to explore the options beyond the obvious: namely big value acquisitions ala YouTube or the often fickle, if mostly workable, online advertising route.   But the biggest question that comes up is that if you let your users generate most of your content and then expose it all up via an API, how can a profitable business be made from this?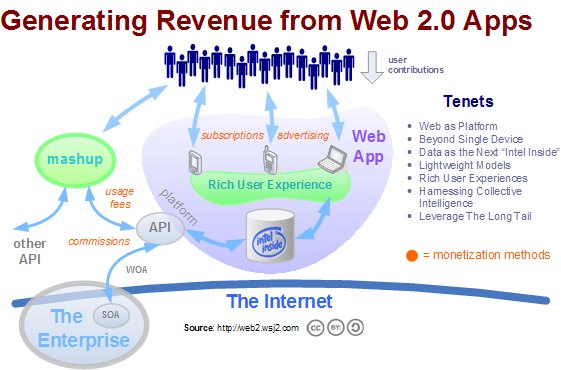 This has been the question from the outset, and though you can build enormously successful sites in terms of numbers of users and amounts of content using Web 2.0 techniques, the best means of monetizing this remain a larger unproven endeavor.  I wrote a while back on the struggle to monetize Web 2.0 where I explored in detail the strategic and tactical methods for making next generation Web sites financially viable, even successful.
If you refer to my original article on monetizing Web 2.0, I identified three tactical means for generating revenue (advertising, subscriptions, and commissions) and a series of strategies that can support them.  While it's usually fairly clear how the direct revenue models work, it's usually less clear to people how the indirect strategies can directly influence the opportunities.
Strategies for Making the Most from Web 2.0 
There are direct (the 3 items above) and numerous indirect ways to monetize Web 2.0 that often go unappreciated
Some of the indirect ways which lead to revenue growth, user growth, and increased resistance to competition — which in turn lead to increased subscriptions, advertising, and commission revenue — are:

Strategic Acquisition: Identifying and acquiring Web 2.0 companies on the exponential growth curve before the rest of the market realizes what it's worth (early exploitation of someone else's network effects.)
Maintaining control of hard to recreate data sources.  This is basically turning walled gardens into fenced gardens:  Let users access everything, but not let them keep it, such as Google providing access to their search index only over the Web.
Building Attention Trust – By being patently fair with customer data and leveraging user's loyalty, you can get them to share more information about themselves that in turns leads to much better products and services tailored to them.
Turning Applications into Platforms: One single use of an application is simply a waste of software.  Turn applications into platforms and get 5, 50, or 5,000 additional uses (Amazon has over 50,000 users of its line of business APIs) for example.  Online platforms are actually very easy to monetize but having compelling content or services first is a prerequisite.
Fully Automated Online Customer Self-Service: Let users get what they want, when they want it, without help.  Seems easy but almost all companies have people in the loop to manage the edge-cases.  Unfortunately, edge cases represent the The Long Tail of customer service.  This is hard but in the end provides goods and services with much tighter feedback loops.  And it's also a mandatory prerequisite for cost effectively serving mass micromarkets.  In other words, you can't directly monetize The Long Tail without this.
Lying directly in the primary tenets of Web 2.0 however, are a series of two-edged issues from a revenue perspective.  Though the concepts and ideas are powerful when applied appropriately, they can also pose significant short-term and long-term challenges.  Below are the basic principles of Web 2.0 along with the positive and negative revenue implications for most companies on the Web today, even ones that aren't fully embracing it yet.
 Revenue Implications for Web 2.0 Principles (not meant to be exhaustive)
Principle 1: Web as Platform

Upside:  Revenue scalability (1 billion users on the Web), rapid growth potential and reach through exploitation of network effects
Downside: Competition is only a URL away, often requiring significant investment in differentiation

Principle 2: Software Above a Single Device

Upside: More opportunities to deliver products and services to users in more situations
Downside: Upfront costs, more infrastructure, more development/testing/support (costs) to deliver products across multiple devices

Principle 3: Data is the Next "Intel Inside"

Upside: Customer loyalty and even lock-in
Downside:  Lack of competitive pressure leading to complacency, long-term potential antitrust issues

Principle 4: Lightweight Programming & Business Models
Principle 5: Rich User Experiences

Upside: More productive and satisfied users, competitive advantage
Downside: Higher cost of development, potentially lower new user discoverability and adoption

Principle 6: Harnessing Collective Intelligence

Upside: Much lower costs of production, higher rate of innovation, dramatically larger overall content output
Downside: Lower level of direct control, governance issues (increased dependence on user base), content management issues, and legal exposure over IP

Principle 7: Leveraging The Long Tail

Upside: Cost-effectively reach thousands of small, previously unprofitable market segments resulting in overall customer growth
Downside: Upfront investment costs can be very significant, managing costs of customer service long-term
While a great many startups are not generating revenue in huge quantities yet, the companies that have been diligently exploiting open APIs such as Amazon and Salesforce are in fact generating significant revenue and second order effects from opening up their platforms and being careful not to lose control.  This is actually a large discussion, and as large Web 2.0 sites continue to emerge, we'll continue to keep track of what the successful patterns and practices are.
What other implications are there by putting users in control of content generation and opening everything up?